Dear Patient:
Thank you for making your appointment with Dr. Chodos.
Enclosed you will find a Patient Information Sheet, Financial Agreement and Patient Questionnaire. Please fill out these forms and mail them back well in advance to your visit. Please DO NOT wait to fill out these forms, as it is important that we have these back prior to you coming in for a visit. If there is not time to mail the forms back to us, please call us so that alternate arrangements can be made. Also, please read and sign our financial agreement form and mail or fax it back with the others. You can keep one copy for your files. These forms are to help facilitate your visit with us and to help us serve you better.
Please carefully read each sheet and if you have any questions regarding the enclosed forms, please call the office at the number listed above. We will be happy to help answer any questions that you may have.
Also, when coming to the office for your initial visit, please bring your insurance card(s) with you and photo ID, as we need to make copies of them. It is a policy at our office to only bill the primary insurance, but some exceptions are made. If you have Medicare and an approved Medigap second insurance, the Medigap will automatically be billed.
At each visit copayment is due at the time of your visit depending on your insurance policy, etc. Please be aware that we prefer check or cash as a form of payment. Credit cards are accepted for amts over $50 and there is a 3% fee we are charged that is passed along if credit card used. If you have a deductible to meet, you will be expected to pay the fee for the visit at the time of the visit depending on the amount owed towards the deductible. This can be checked with your insurance company prior to your visit. Please read the Financial Form for more insurance and payment information.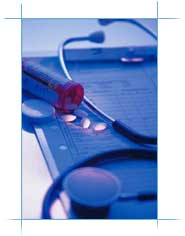 On the day of your initial visit, please know which lab and radiology (x-ray) facility your insurance requires you to use.
If you are scheduled for an appointment and need to cancel, please call at least 24 hours (one business day) in advance of the appointment or there will be a cancellation fee of $25 to pay which is not covered by health insurance.
If you have had relevant Labs, x-rays or other tests done recently, please have a copy forwarded to our office before your initial visit or bring a copy with you at the time of your appointment. If you have had an ER or doctor visit for your problem please tell us BEFORE your visit so we have time to get that report. This is very important and helps us help you.
Your cooperation in these matters is greatly appreciated.
Rev. 1/16
Documents To Download, Print and Mail To Dr. Chodos
Please
right-click
the icon and choose
"Save Target As"
to download.
1.
Patient Information Sheet

2.
Financial Agreement

3.
Patient Questionnaire